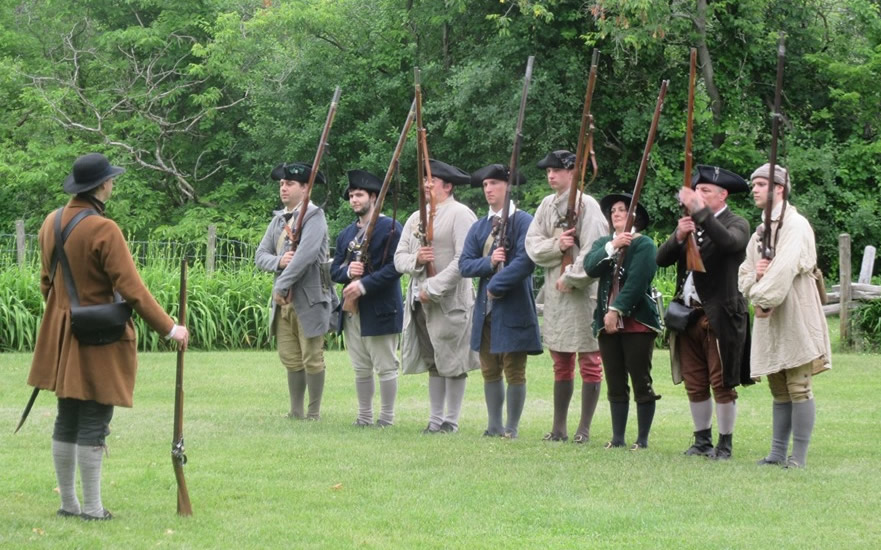 Militia
Local civilians, formed into militia units, would sometimes augment the regular army.
Civilian militia members wear a variety of breeches, frock coats, short jackets, farmer's frocks, cocked hats, round hats, and knit caps.
The Regiment provides comprehensive tutorials with vetted fabrics, colors, and patterns correct for our portrayals to help you build your kit accurately.  Members are expected to assemble their kit in accordance to these tutorials.
---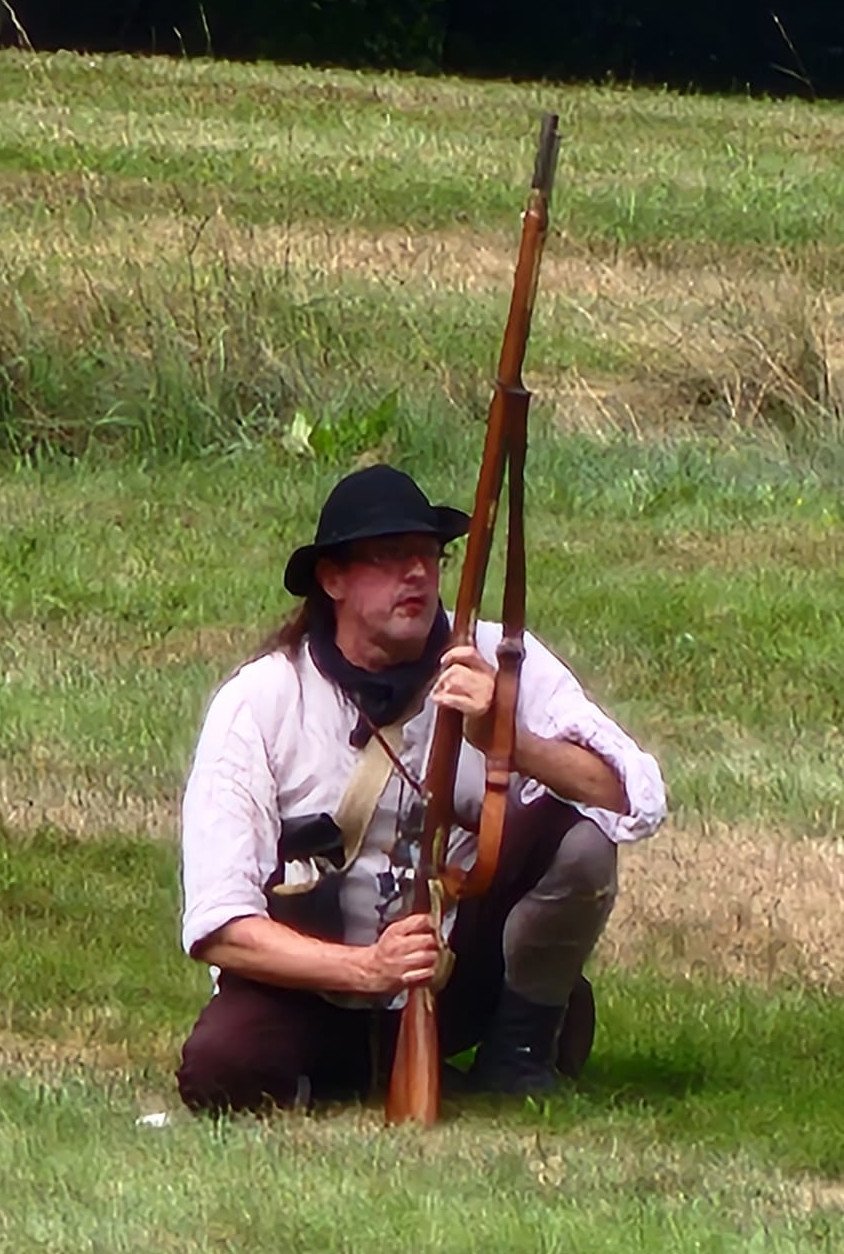 Militia Clothing
B

reeches –

D

ark blue, gray, black, green, natural or oatmeal linen. Narrowfall drop front or the older button fly style.

T

rousers –

N

arrowfall drop front or the older button fly style. White, natural, ticking (white with blue pinstripes) linen or drill. Overalls were substantially less common than breeches and are not appropriate for a Regular Line soldier.

S

hirt –

W

hite, light brown, or checked (blue, green, brown, black, ⅛ to ¼ inch) linen. NO printed patterns.

S

tockings –

W

ool or linsey-woolsey of just about any solid color. Horizontal striped stockings are not appropriate.

C

ocked Hat –

B

lack or white tie-ups & black tape trim are appropriate.

W

aistcoat –

S

leeved or un sleeved, wool or linen. Most solid colors or stripes, with metal or cloth covered buttons.

S

hoes –

B

lack leather, squared toes preferred, rough side out, may be buckled or tied. If modern shoes or boots are worn, gaiters or overalls must cover the shoes/boots.

G

arters –

L

eather garters with a brass or iron buckle. Strips of cloth or linen twill tape.

F

rock Coat –

T

an/natural linen, brownish-greenish, blues, rust, gray, black, or yellow linen or wool.

M

occasins –

C

enter-seamed style.

N

eckerchief –

R

olled & then tied around the neck under the collar. Size varied between 12x12" to 36x36". Handkerchief weight linen, cotton, or silk. Solid color or checked.

R

ound Hat –

R

ound hats with cut down brims.

K

nitted Wool Cap –

M

onmouth or Dutch style.
---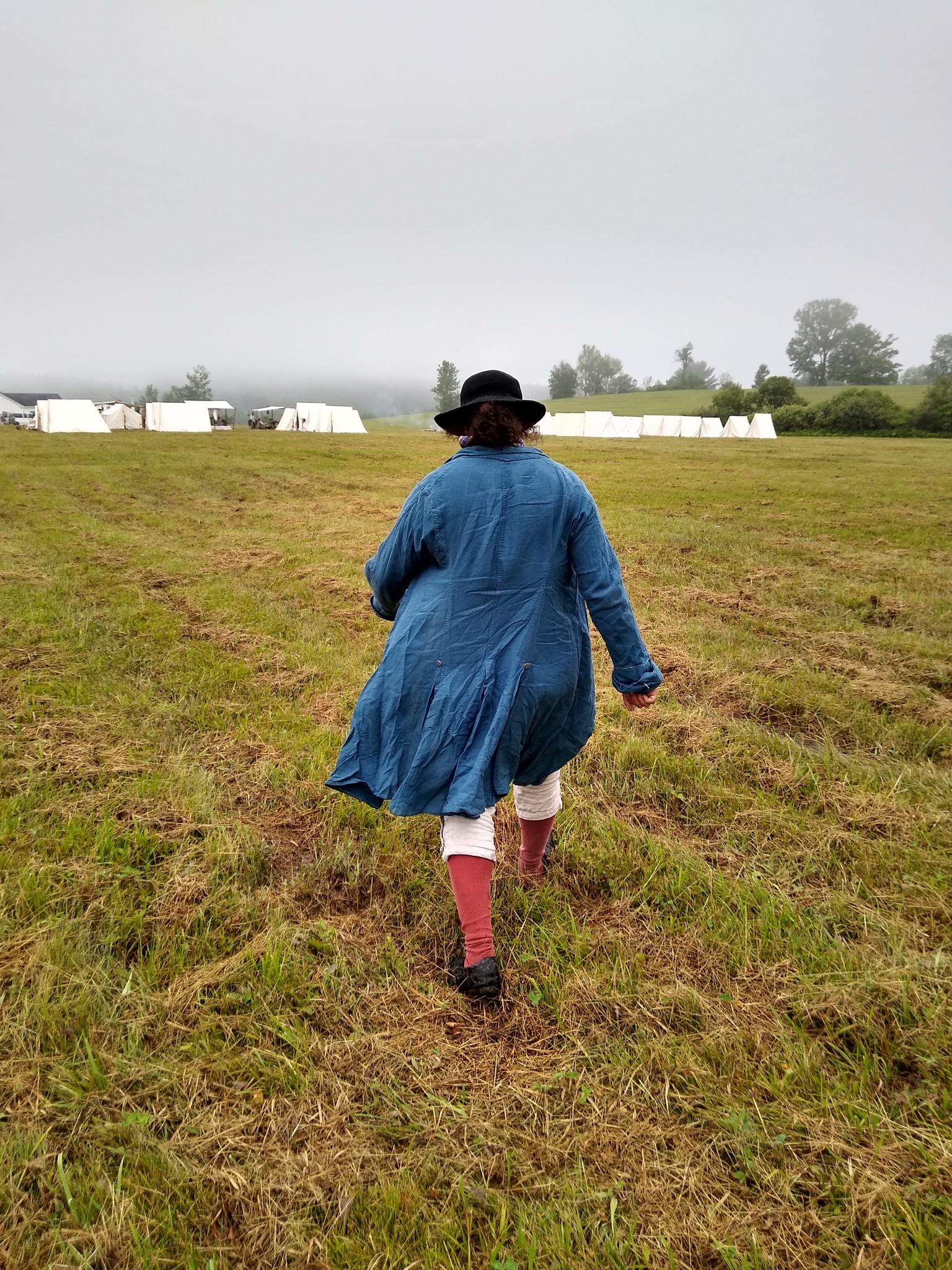 Arms & Accoutrements
M

usket –
•

E

nglish 1st or 2nd Model (Tower or Grice) Long pattern
•

F

rench (Charleville) Models 1746, 1763, or 1768
•

P

otsdam style
•

F

usils & Fowlers as approved by the Commander/Sjt. Major


A

ll muskets are required to be equipped with a flash guard & hammer stall.

C

artridge Box or Pouch –

L

eather pouch with a block drilled for 19-24 holes, suspended by a leather or linen strap with or without buckles. Straps must be stitched or nailed to the pouch.

B

ayonet with Scabbard –

S

ocket style bayonet worn on either a cross or waist belt;
A plug bayonet is not appropriate for our impression. Militia often did not have bayonets and the original Regiment was notoriously under supplied with bayonets.
---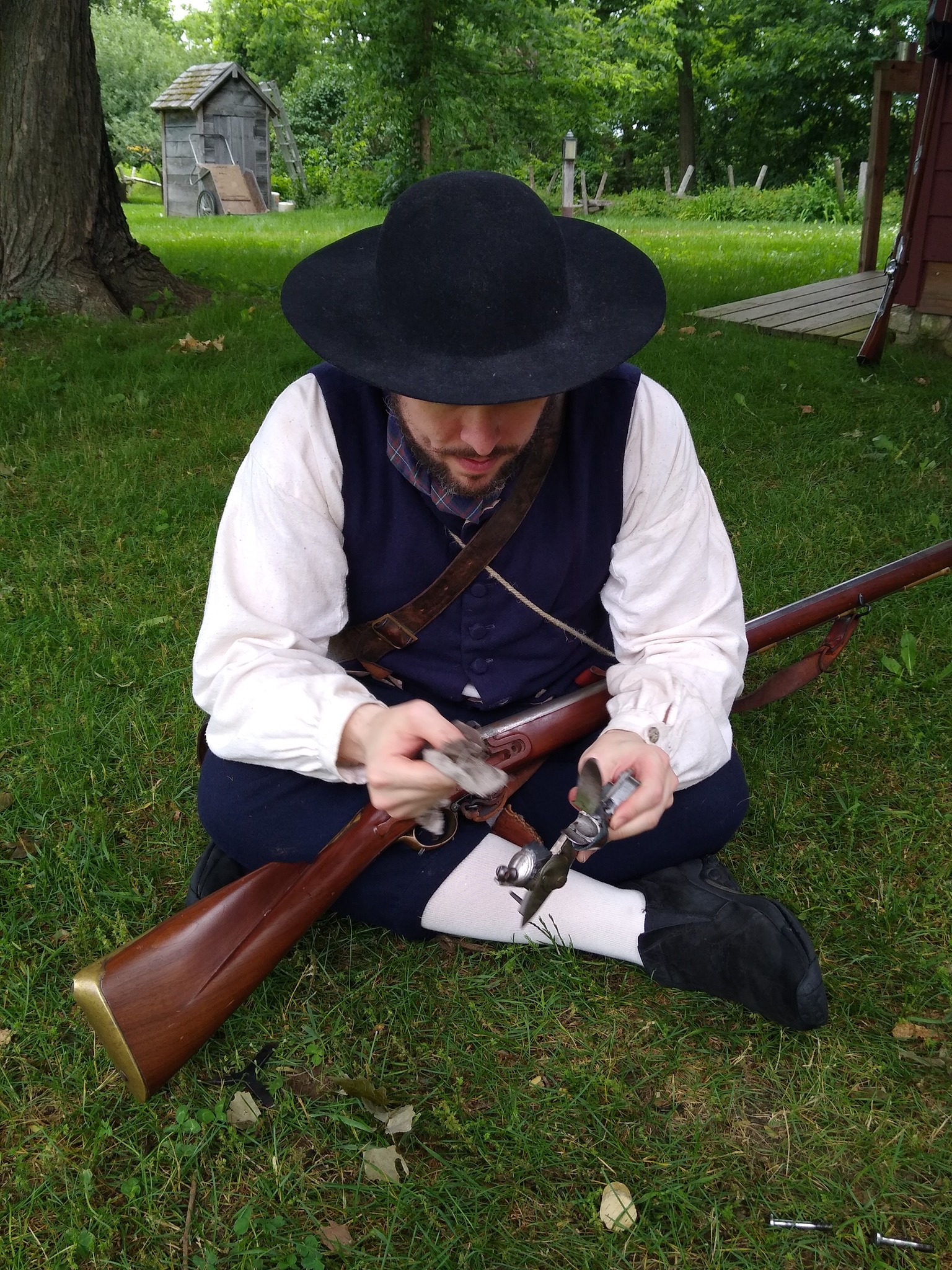 Equipment
C

anteen –

W

ooden cheesebox style, or hollowed gourd. Canteens are a safety requirement for all outdoor events.

K

nife –

P

ocket knives were the most common, but small trade knives were often used. Bowie, "long hunter" & dagger type knives are not appropriate.

W

eapons Cleaning Kit –
•

C

otton or linen cleaning rags.
•

T

ow.
•

T

hreaded worm &/or hemp string.
•

T

urnkey (screwdriver) The Pickering tool is not appropriate.
•

C

ontainer of brick dust.

H

aversack –

S

quare off white or oatmeal linen or hemp canvas shoulder bag for carrying food items.

K

napsack –

W

hite, off white, or oatmeal linen, single pouch, Uhl pattern.

(M

arket) Wallet –

A

long, narrow, linen sack with a slit down the center to carry sundry personal items. With a half-twist to close the opening, it is thrown over the shoulder.

B

lanket(s) –

O

ne is documented (if not incorporated in a bedroll). Issued blankets were relatively light weight & natural wool color or dyed dark colors .
Whitney & Hudson Bay type blankets while very warm on cold nights, are inappropriate for public display.
---