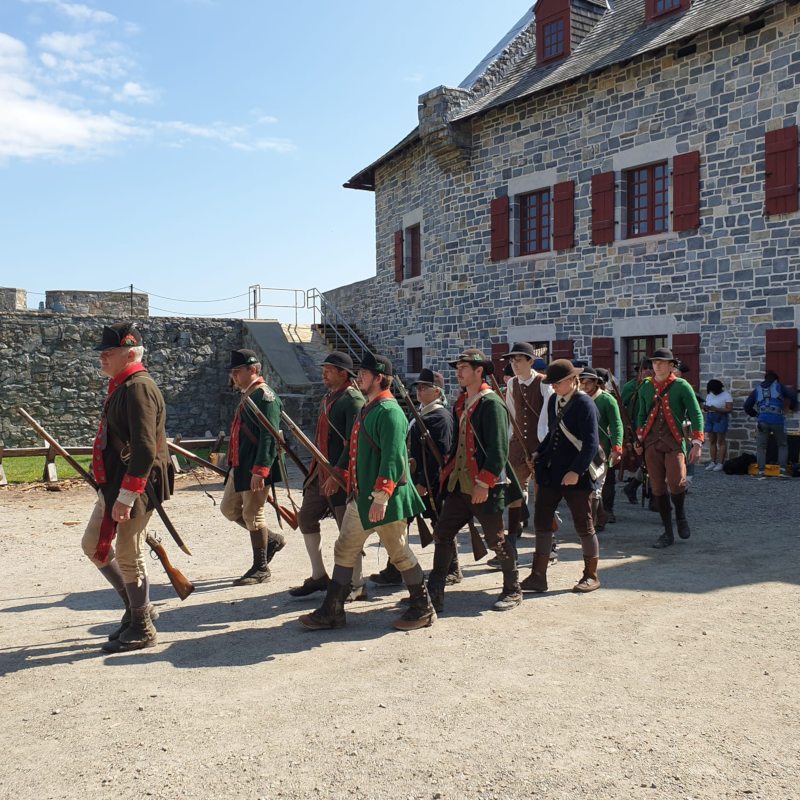 Portrayals
While primarily a military unit, members of Seth Warner's Recreated Regiment portray a number of different types of people, including soldiers, camp followers, and civilian artisans.
The Regiment provides comprehensive tutorials with vetted fabrics, colors, and patterns correct for our portrayals to help you build your kit accurately.  Members are expected to assemble their kit in accordance to these tutorials.  Many of the Regiment's members have found making or assembling parts of the kit themselves to be very rewarding, as it increases their understanding of eighteenth century material culture, and in the long run, is far less expensive than buying from sutlers or on-line. 
All clothing and equipment is expected be from the correct time period, the correct location and appropriate class.  Clothing is expected to be cut and fit in the proper 18th century manner.  Oversized or poorly fitted clothes draw attention and detract from the overall authenticity of the Regiment; therefore, it is important to have correctly tailored clothing.  This is especially true for women who portray men in the line. 
---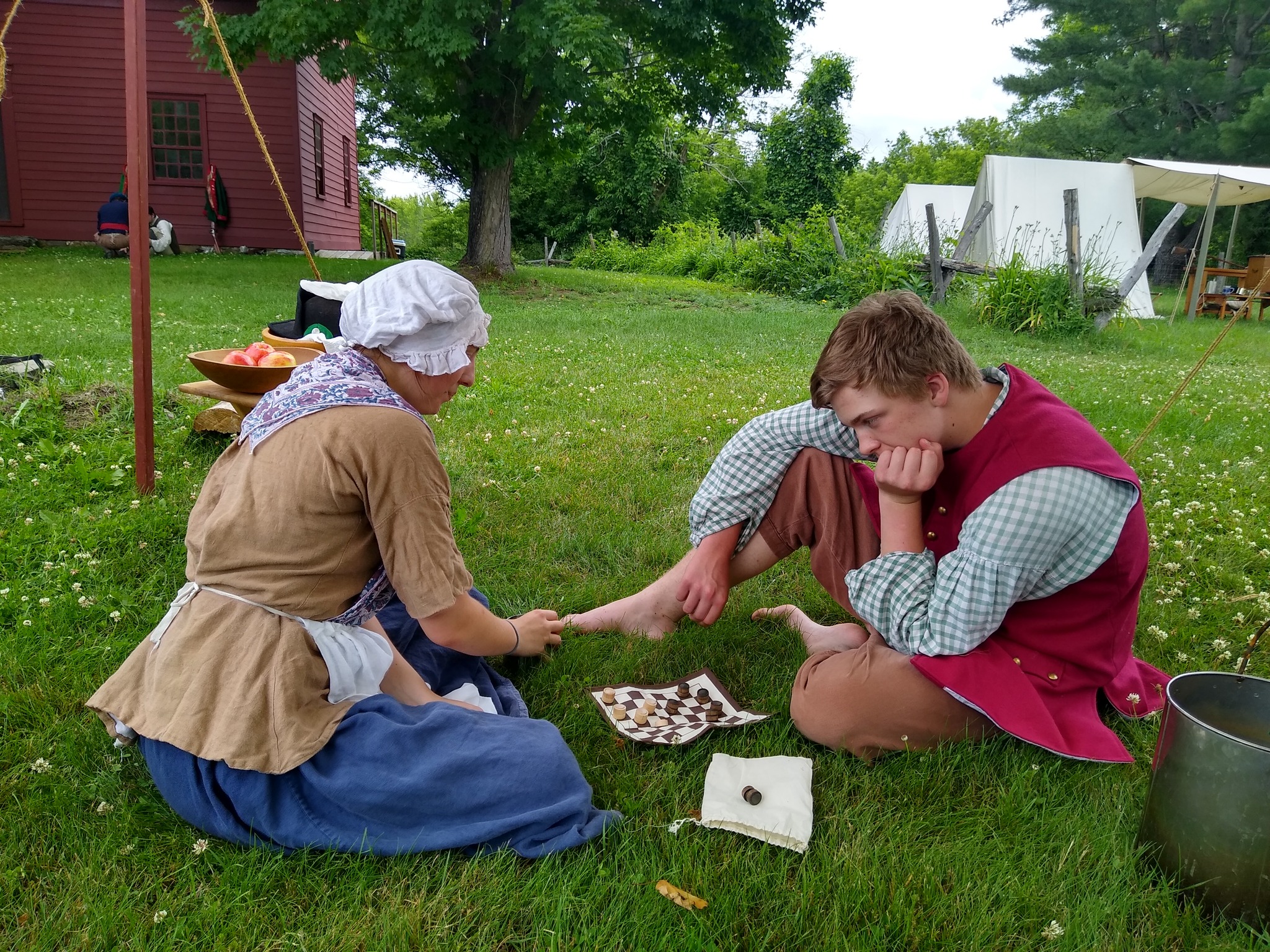 As you start out it is helpful to be familiar with 18th Century social customs for clothing.
Men universally wore some type of hat or cap, a piece of cloth tied at the neck, a waistcoat over the shirt, and an outer garment over the waistcoat.  A man without a waistcoat and neck covering was considered "undressed" if in public.  The outer garment, most often some type of coat, was to protect the waistcoat and shirt from wear and dirt.  Laborers often wore aprons or oversized, heavy shirts known as farmer's frocks to protect shirts and waistcoats.  The military had specific variations on this custom such as fatigue caps to reduce wear on cocked hats and open front frocks to protect the waistcoat and shirts.  Only on the most heated days and heavy labor would soldiers forego waistcoats and labor only in their shirt.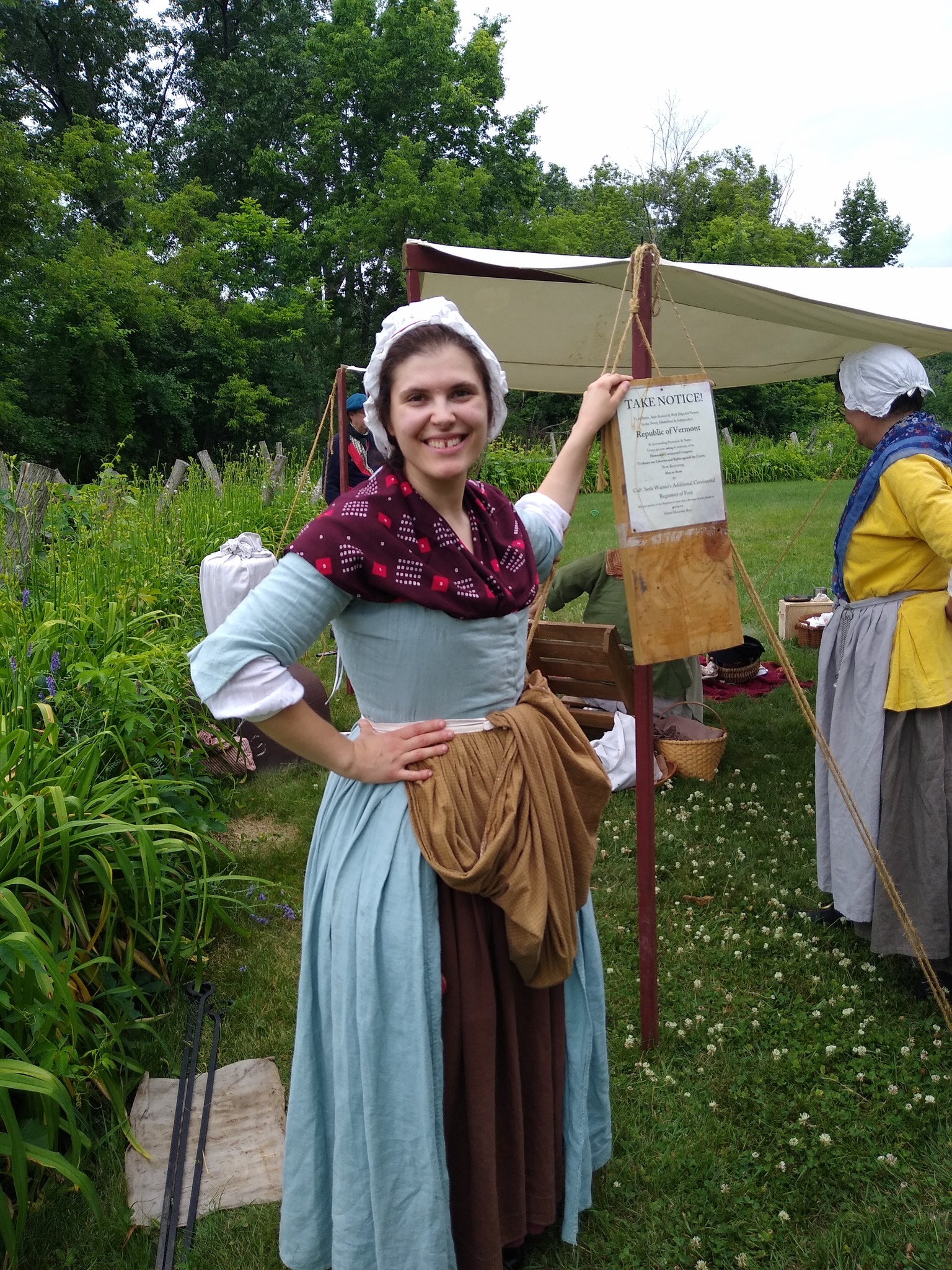 Women universally wore some type of cap or hat, and outer garments over a shift and stays.  The outer garment was full gown, or some type of jacket, with two or more petticoats and an apron.  A neckerchief covered the bosom.  A woman without a top garment over her stays was considered "undressed" if in public. 
Until about age 4 or 5 years, children wore a long shirt or shift and perhaps a tunic in cooler weather.  After age 5, most children began to dress similarly to adults.
Patterns are available for many items in your kit; contact the Sjt. Major.  Even if you do not decide to make some of your clothing, nearly all clothing bought "off the rack" from a purveyor on-line will require minor adjustments of buttons or seams.  Learning basic hand sewing techniques for patching small holes and tears as well as attaching buttons is a practical necessity for the living historian.  Correct sewing techniques are described in The Lady's Guide to Plain Sewing [Book I], The Lady's Guide to Plain Sewing [Book II], and The Workman's Guide to Tailoring Stitches and Techniques and here on the Regiment's web site.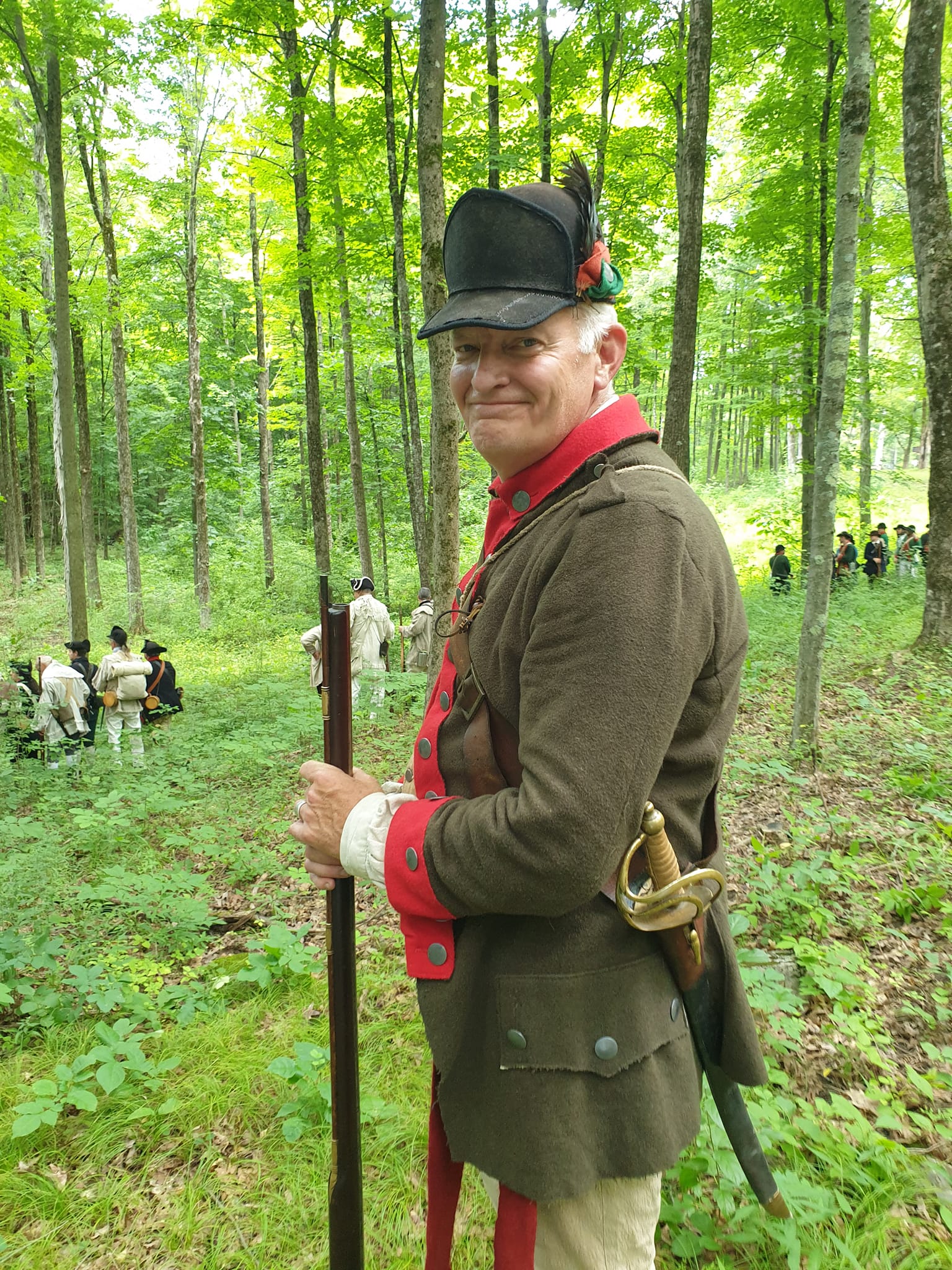 As we portray a Regiment primarily on campaign, wear & soiling on uniforms is expected.  Period documents indicate soldiers routinely had only one or two of an item to last the season (unless additional items were "procured") and of course, camp followers only had what they had carried with them.  Remnants of mud, grass, & powder stains are appropriate.  The Regiment encourages "honest wear", that is, wear made by actual use.  Several members accelerate natural wear by doing chores in their small clothes which produces natural tears & wear patterns.  Do not simulate tears or sew on fake patches.  Additionally, leaving clothing outside exposed to the weather will add natural wear.  Drying clothing in the sun will produce sun bleaching for linens.  Naturally dyed items will "weather" & stain more easily than modern dyes.  "Stone washing", bleaching, or other artificial methods of aging clothes are NOT recommended; it does not look natural & is clearly noticeable.
Because the Regimental coat is expensive & more difficult to replace (both in the 18th Century & now), extra care is recommended.  Cuthbertson states Regimental Coats were worn primarily while on duty to preserve them & we advocate that as well.   When clothing requires cleaning because of extreme soiling & smell, see methods to clean clothing.

---